Just outside your balcony there grows an array of tropical plants.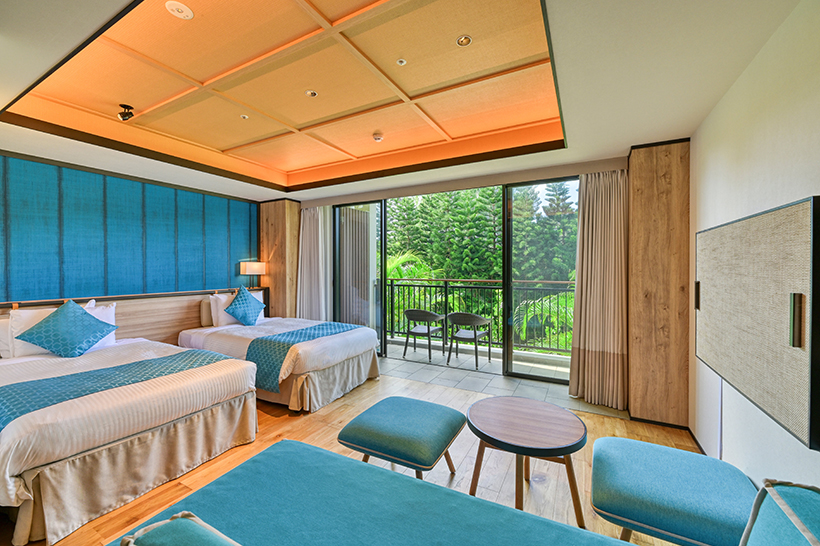 Floor
North Wing / South Wing 2F
Floor Area
36㎡
capacity
2~3 or 2~4
Bed(s)
2 beds (120 cm × 205 cm)
* Stacking beds (100 cm × 195 cm) and sofa-beds (90 cm × 195 cm) are available for three or more guests.
Amenities & Facilities
Air purifier, coffee machine, balcony, bath chair, Okinawan jasmine tea, women's amenity set (face wash, lotion, emulsion, makeup remover, hair essence)
* Smoking is not permitted in the guest rooms.Guests who wish to smoke are requested to use the designated smoking area.
* You cannot specify the floor. The room layout is an example.
* Connecting rooms available. To reserve a connecting room, please select "Connecting Room" on the Accommodation Plans page.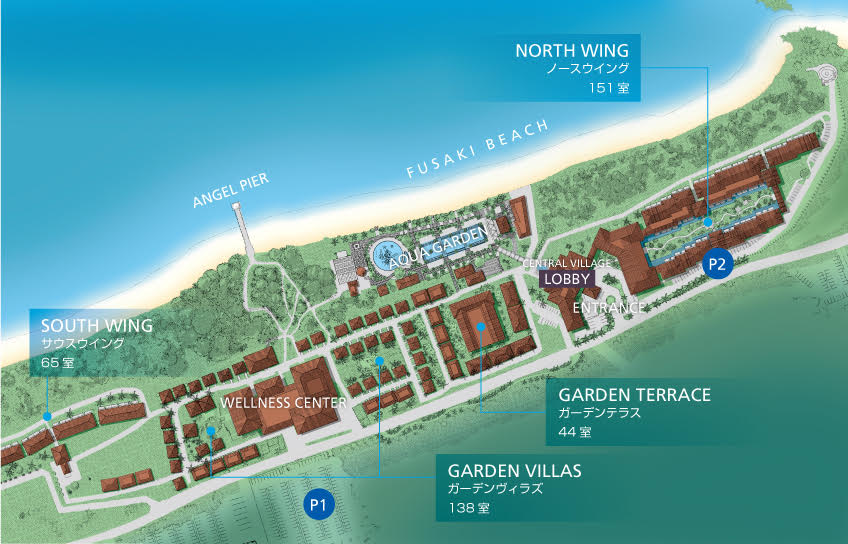 Standard Facilities, Amenities, and Items That Can Be Borrowed
Amenities & Facilities
TV, bath, toilet with bidet, air conditioning, closet, kettle, hairdryer, refrigerator, cellphone charger
Amenities
Indoor wear (two-piece), indoor shoes (slippers), bath towel, face towel, body towel, body soap, shampoo, conditioner, shaving equipment, toothbrush, comb, cotton swabs, mineral water, green tea, elastic hair bands, cotton wipes
Internet
Wi-fi (free)
Items That Can Be Borrowed (reservation required; numbers limited)
Stroller, crib, bed guards, baby bath, non-slip mat for bath, baby bottle washing pot, hot water thermometer, diaper disposal, children's bath chair, children's toilet seat, children's lift, full-body soap for children, wheelchair, air purifier, DVD player
(Cottage) Using the baby bath and bath chair: There is no room for a washing area because it is a 3-piece bath.
(North Wing) The DVD player is portable due to TV specifications.
Items That Can Be Borrowed on Site
Iron, ironing board, nail clippers, thermometer, ice pillow
Indoor clothing for children (two-piece) S 100–120 / M 130–140 / L 150
SUPERIOR TWIN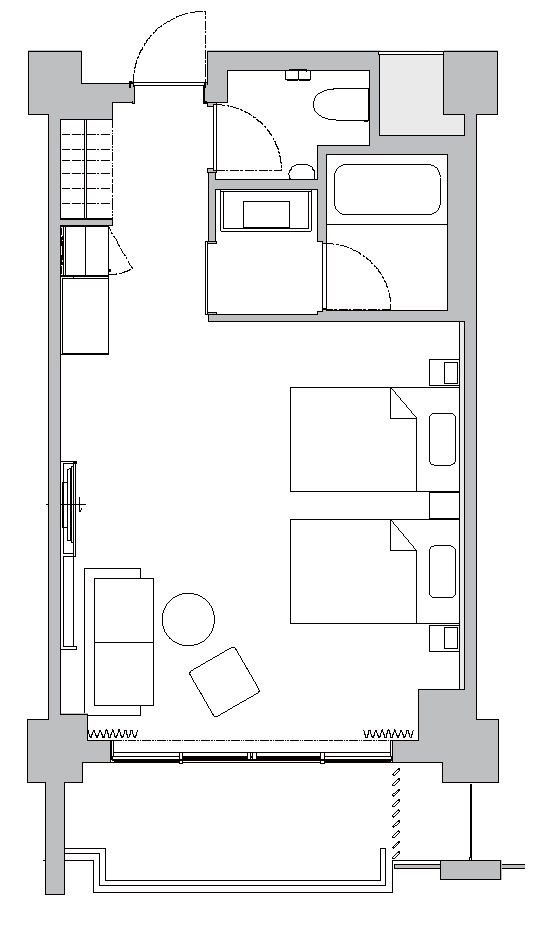 FAQ about Rooms
Q
What kind of rooms do you have available??
Q
Can I use the Internet in my room??
Q
Is there room service??